May 13, 1998 – October 30, 2018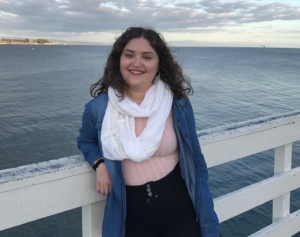 I met Bianca when she was 15 years old, at the start of our first Communitas group in 2014. Bianca endeared herself to our Communitas group and staff from the beginning, with her kind and gracious presence. She became our most dedicated community member and participated in every Communitas group we had from 2014-2018, evolving from participant to program volunteer, leader, and advisor. She helped us launch the first Communitas Health retreat in June 2018, and served as our teen program volunteer and counselor. Bianca became the heart and soul of our program, the glue of our community, and touched so many lives in the process of her involvement.
When Bianca was 10 years old, she was diagnosed with a rare lung condition "idiopathic pulmonary fibrosis", which forced her to rely on an oxygen tank to breathe and be hospitalized frequently. Her condition progressed to her requiring a double lung transplant for her survival, which she received in August of 2015. For 3 years, she was able to live a more normal life, finishing high school and attending college to pursue her dream of becoming a child life specialist. She was able to spend the night away from home for the first time and travel on an airplane. She got to dream of her future again.
Unfortunately, in August 2018, her lungs began to fail rapidly, and she was placed on life support, as she awaited a second lung transplant. She was able to receive a new set of lungs in September but faced many complications after the procedure. On Oct 30th, 2018, we lost our dear Bianca after a 2-month struggle in the ICU and a wave of grief hit our Communitas community, her many friends, and loving family.
It's hard to describe Bianca because when you say the words, they sound too good to be true: radiant, compassionate, positive, endlessly grateful, always caring about others even when she was suffering, beautiful inside and out, full of joy and love. She was a sweetheart, but she was also a determined fighter and one of the strongest people I have ever met. She was wise well beyond her years and knew what truly mattered in life—a naturally old soul made even more knowing by her struggles.
As she told one of her nurses in the ICU on one of her final days, Bianca was put on this planet to inspire others and she felt that she had gotten to do that. I absolutely know she accomplished that and so much more, as I have witnessed the impact she had on those around her in the Communitas community. She made everyone in our groups feel so at ease and on their hardest days, inspired them not to give up. When I went to say goodbye to her at the hospital, I whispered in her ear that I was going to make sure her inspiration carried on into the future through the Communitas Health organization and that as many people as possible knew her name and story.
I set up a scholarship fund in her honor, so that as many families as possible can experience the Communitas Health Retreat—a program that meant so much to her and that she helped shape and guide. By enabling others to attend this program in her name, I know that we will carry forward her life mission of helping other kids experiencing chronic illness and create a lasting legacy for her.
Knowing Bianca and being in her presence has been one of the greatest honors and blessings of my life. Thank you for teaching us how to smile through our struggles and be grateful for each other and the little things in life. We love you and miss you every day.
You can donate to the Bianca Valdivia scholarship fund here or by mailing a donation to: Commonweal/Communitas, Commonweal, PO Box 316, Bolinas, CA, 94924 (please note that the donation is in honor of Bianca Valdivia).
With love and gratitude,
Brittany Blockman
Communitas Health, Founder/Director